Free or Reduced Meal Pricing Information
Free Meals for Every Student Ended in May 2022
While free meals for all students were a welcome relief during the COVID-19 pandemic, these benefits ended in May 2022 when the federal government declined to continue funding this program. This means all families will need to carry a positive balance in their children's school meal accounts to ensure that their students have the nutrition they need throughout the day to learn.
Some Students Will Still Qualify, But You Must Apply
Many children may still be eligible to receive free or reduced meals at school but you must apply in order to qualify. We urge you to fill out a confidential application and return it to the assistant business manager, Dawn Huber at the high school office or by mailing it to: Dawn Huber, Hanson School District, PO BOX 490, Alexandria, SD 57311. Dawn can also be contacted by email if you have any questions at dawn.huber@k12.sd.us or by phone at: (605) 239-4387.
Federal Eligibility Income Chart For School Year 2023-2024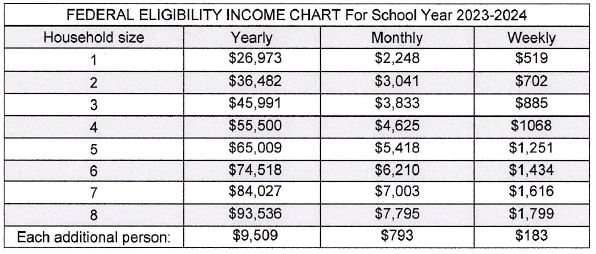 Meal Services for Children with Dietary Restrictions
The Hanson School District Food Service Program aim to provide all children, regardless of background, with the nutritious meals they need to be healthy. This includes ensuring children with medical conditions have an equal opportunity to participate in and benefit from the National School Lunch Program (NSLP) and the School Breakfast Program (SBP).