The library is open to the public!
Mondays 3:30 p.m. - 6:30 p.m.
Wednesdays-Summer only 9:00 a.m. - 12:00 p.m.
Wednesdays 3:30 p.m. - 6:30 p.m.
Saturdays 9:00 a.m. - 1:00 p.m.

Thank You!

We would like to thank the businesses and individuals who have seen the promise in the Hanson Area Community Library project and pledged their support. To see a complete list of the donors, check out the documents to the right of this page.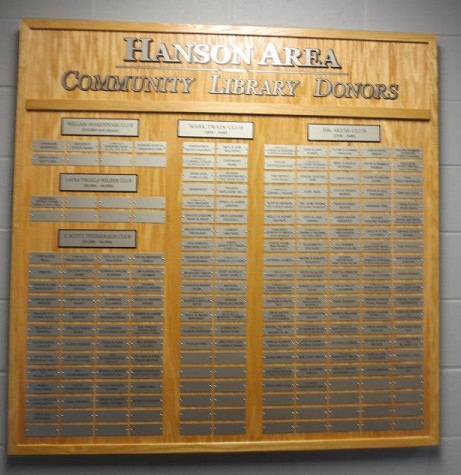 Contact us at
alexlib@triotel.net
The benefits the new library brings to our community are immeasurable. A well rounded community begins with one dedicated to learning and the betterment of their citizens. That is what the Hanson Area Community Library brings. It is a place where children can go to discover the joys of reading, where teenagers can explore new areas of study, and community members can renew their love of learning. The whole community is excited about the addition of the new facility.
Ebooks Now Available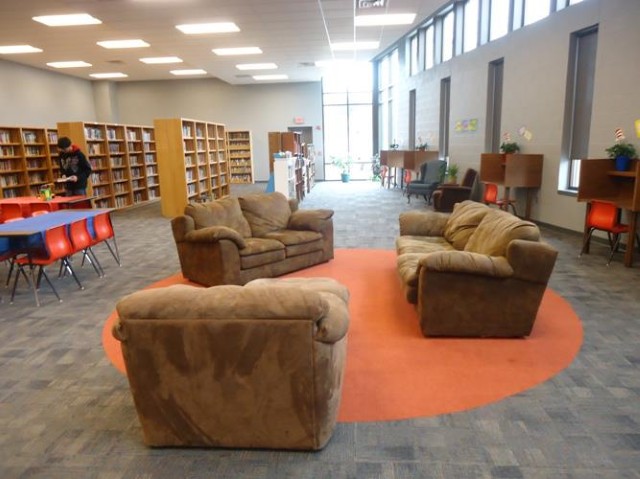 The Hanson Area Community Library would like to announce a special opportunity. The library is finished, but needs some help to make it complete. We are looking for individuals, families, or businesses to sponsor our bookshelves.
By sponsoring a bookshelf you will leave a long lasting impact on the library goers. Students of the Hanson School and library patrons from toddlers to our senior citizens will be able to appreciate shelves full of books because of your support. This would make an excellent Christmas gift for people of all ages. Children would love to see their name on a shelf as they frequent the library. What better gift to give a child or grandchild than something they can never outgrow. There couldn't be a more perfect way to ensure a long lasting legacy of reading than by sponsoring a bookshelf.
Sponsors will be recognized by a plaque placed on the shelf. Sponsorships are $100 per shelf. Space is limited so contact us today. Fill out the following form and drop it off at the Hanson School.
LIBRARY SHELF SPONSORSHIP REQUEST FORM
To see a full list of the current book shelf sponsors see the documents below. There is still room for more! Sponor a shelf of your own.
Book Shelf Sponsorships - 12-17-2013
Community Library Brochure - Final