Great job on Wednesday by our XC team in Parker!

Hanson royalty!

Congrats to the cross country teams for their success in the Cornbelt Conference XC meet on Wednesday. The girls were conference champions and the boys team placed 2nd. Congrats to Taziah Hawkins for winning the individual championship. Great job to all!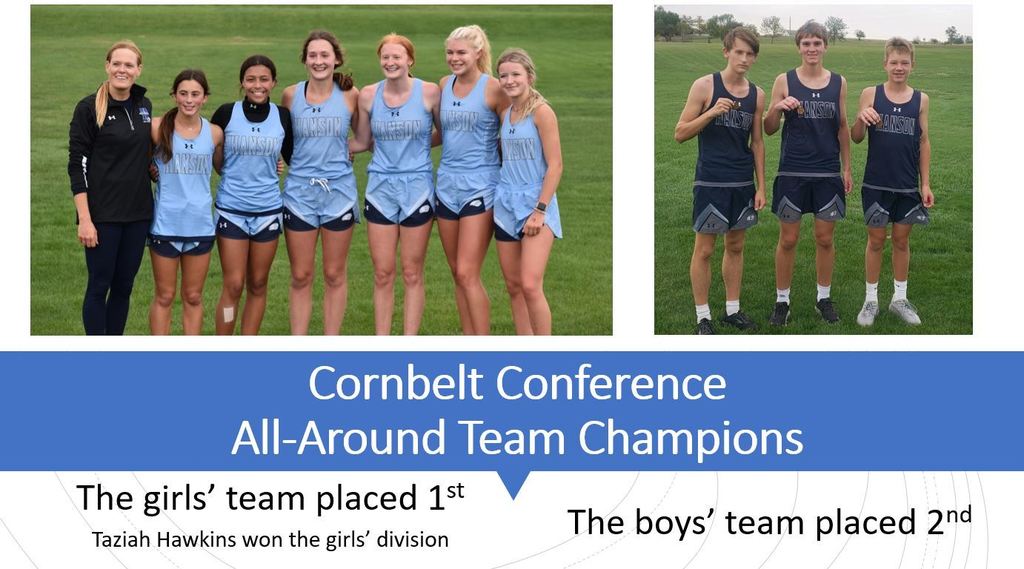 Come out to the Knights of Columbus tailgate Friday night before the homecoming game. They will be serving pork loin sandwiches, backed beans, chips and cookies. Free will offering.

There will be a short meeting at 8:00 a.m. on Tuesday, September 27th in Mrs. Kusser's room for anyone interested in participating in Oral Interp (Grades 9-12).

Congrats to the girls CC team for repeating as Team Conference Champions today!! Girls: Taziah 1st Eliza 3rd Reece 4th Cadence 5th Erin 6th Alyssa 7th Boys: Carson 7th Will 9th Anthony 11th

The Security State Bank will be serving hot dogs and chips in front of the bank on Friday during the homecoming parade festivities for community members. All are welcome to stop by.

A huge thank you to Klock Werks and all the donors who helped provide Hanson Elementary with 24 Strider Bikes and Helmets. The kids were a little excited!!!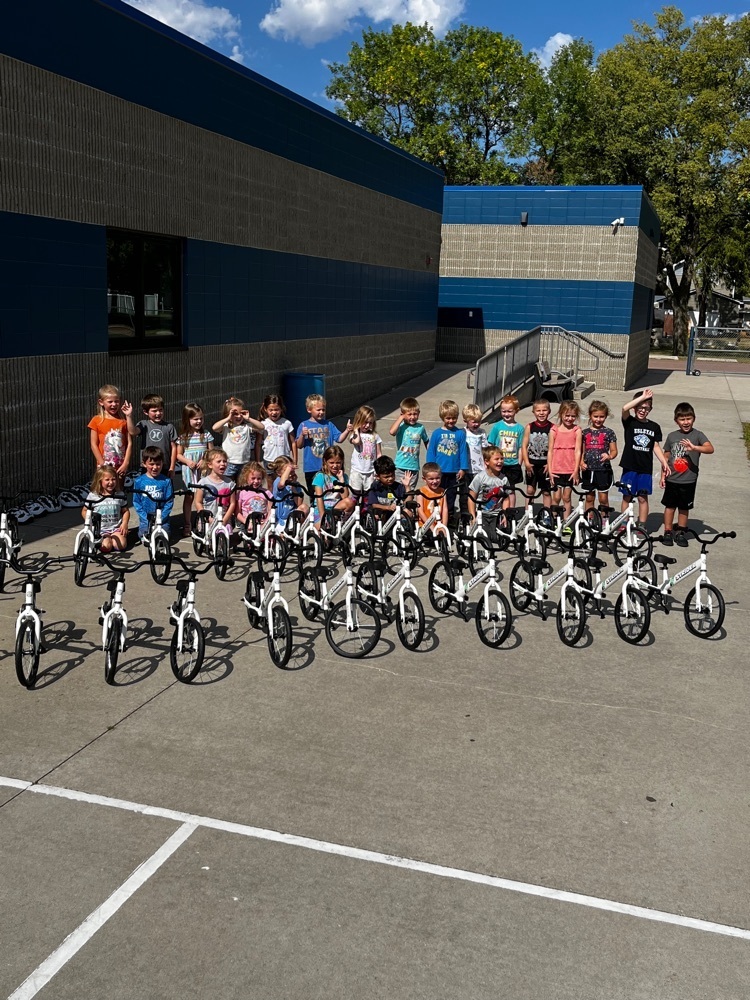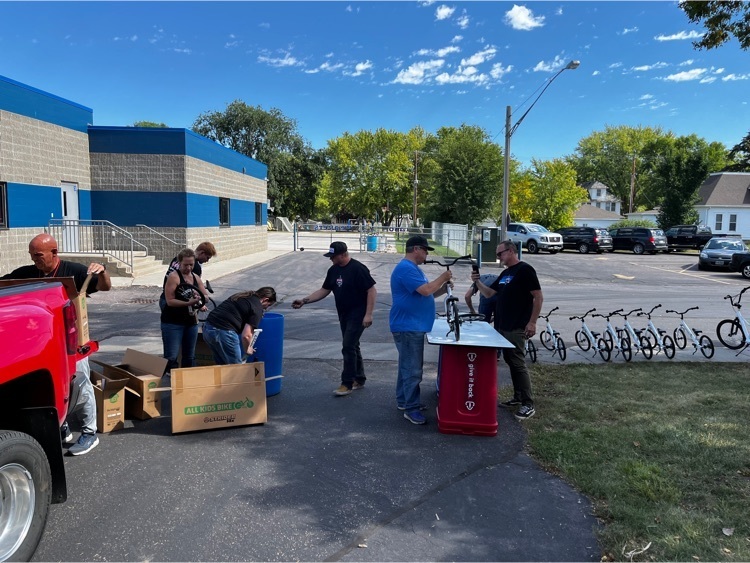 Picture retake day will be October 3rd. Information for the retake process are in the link.
https://5il.co/1i8k9

Congrats to our 2022 homecoming king and queen. Riley Haynes and Skylar Holm!

Hanson Coronation tonight (Monday) at 7:30 pm. King Candidates are: Ethan Cheeseman, Riley Haynes, Christian Jarding, Hadley Wallace, Gunnar Yeo. Queen Candidates are: Erin Dewald, Karlie Goergen, Skylar Holm, Peighten Wallace, Annalyse Weber.

Tuesday night's VB them is Military Appreciation. Students wear Camo, Parents section wear Red/White/Blue.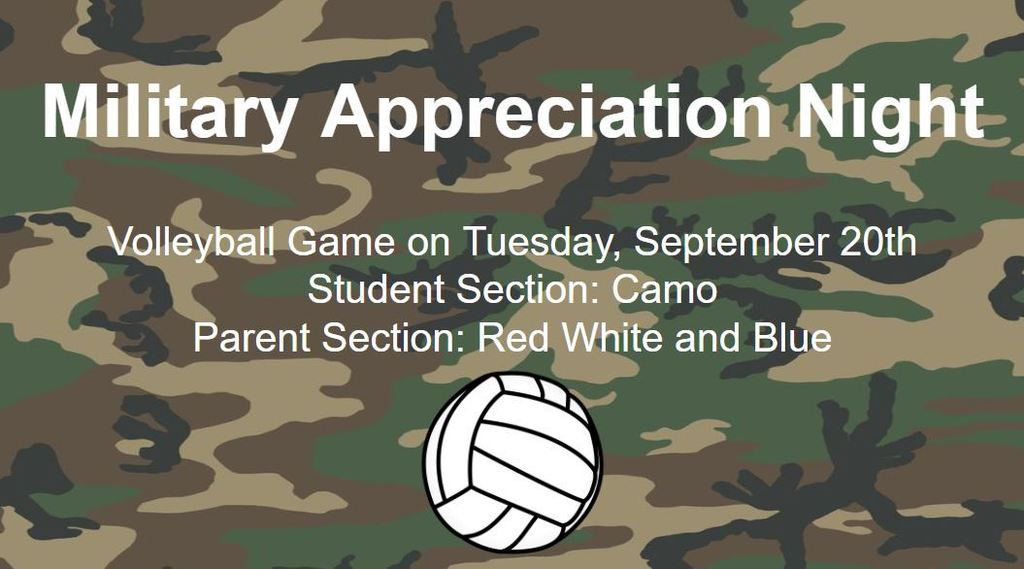 Results from todays cross country meet in Freeman. Boy's team placed 5th. The girl's team placed 1st. Next meet is the Conference meet Wednesday at Freeman.

For any Hanson female athletes in grades 7-12 interested in competing for Parkston/Ethan/Hanson/Mt Vernon in gymnastics this year there is a mandatory parent & athlete meeting: Saturday, September 17th 10:30 a.m. @ Core Athletics in Mitchell During the meeting they will measure for uniforms, discuss fundraising and season schedule/program details. If you plan on participating the athlete and parent need to attend. Also, please notify Mr. Bridge if you plan to participate in gymnastics this year.
james.bridge@k12.sd.us

Hanson community: The track is open for community members to use for exercise. The chain link gate in the southeast corner of the parking lot will be unlocked for community members to enter the facility. Please respect the posted guidelines and help keep the facility clean.


Congrats to all the C.C. runners for placing at the FA/Marion meet in Freeman. JH Girls Tenly S 10th, JV Girls Kyannah 10th, HS Girls Eliza 2nd, Cadence 6th, Taziah 7th, Reese 9th, Erin 10th, Alyssa 13th - HS Boys Carson 9th, Will 12th. The HS girls also won the Team Event.
Volleyball schedule for Thursday, Sept. 8th vs Mt. Vernon/Plankinton @ Hanson 3:45 - 4:05 6th grade 4:05 - 4:35 7th grade 4:35 - 5:05 8th grade 5:15 C match 6:15 JV match followed by the varsity match