Reminder to bring Non-perishables for the Giving Tree food drive. Just a couple days left until it ends on December 10th!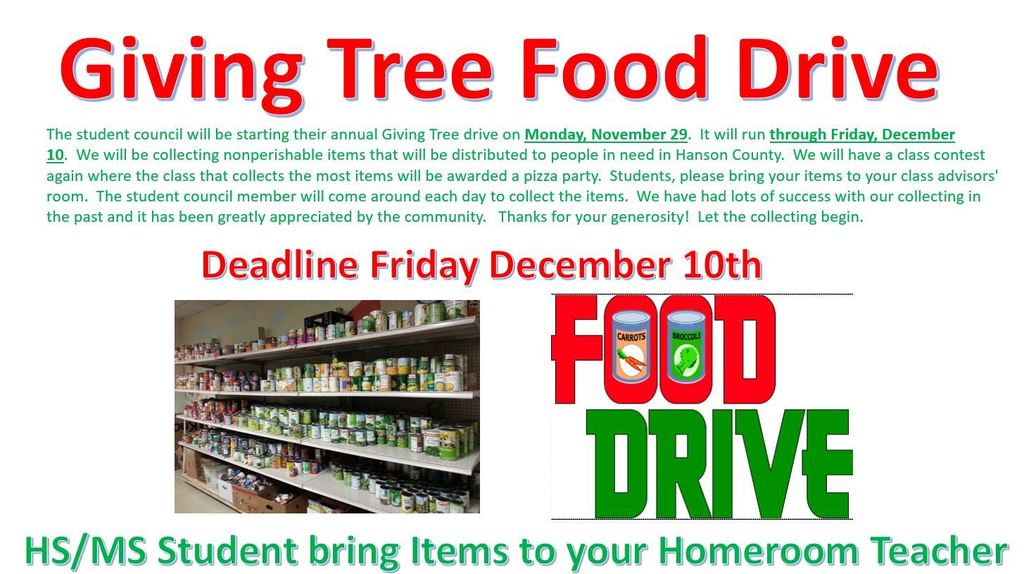 A reminder that the Student Council food drive runs through the end of the week (Friday Dec. 10th). Students can bring non-perishable items to their advisor/teacher's room to contribute.

Congrats to the Quiz bowl team for another victory in the Q107 Quiz Bowl. They have qualified for the Elite 8 and will now go on site at the Pepsi Cola Theater in Mitchell on January 8th for the final rounds of the quiz bowl. Great Job!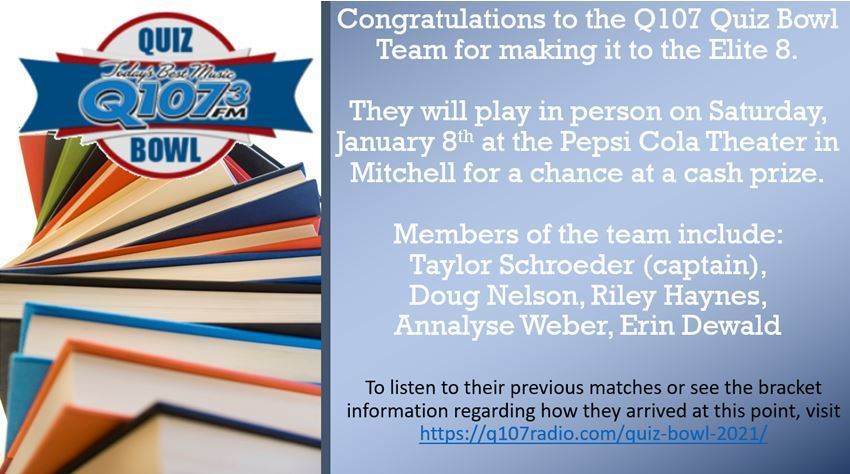 Winter activity pictures will be taken Friday afternoon. Forms have been given to those in activities to bring home. Families may pre-order and pre-pay online for Winter Sports Portraits at this link through the night before picture day. Simply click on your school event name (look for Winter Sports). You can combine online orders by entering each student's name when prompted in the beginning. Order Link:
https://marks.hhimagehost.com/V2/Home/EventList

Hanson will host the Cornbelt conference girls JH tourney tomorrow. Admission is: Adults $5 and students $3. Hanson passes will not work for the Cornbelt tourney.

Hanson County Courthouse Open House Thursday, December 9th 3:00pm until 6:00pm Visit With Santa & Mrs. Claus in the Courtroom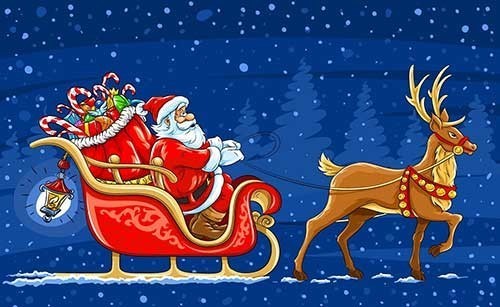 The Student Council Giving Tree Food Drive starts on Monday November 29th. Students should bring non-perishables to their classrooms or advisor's rooms for MS and HS students. Lets make a difference!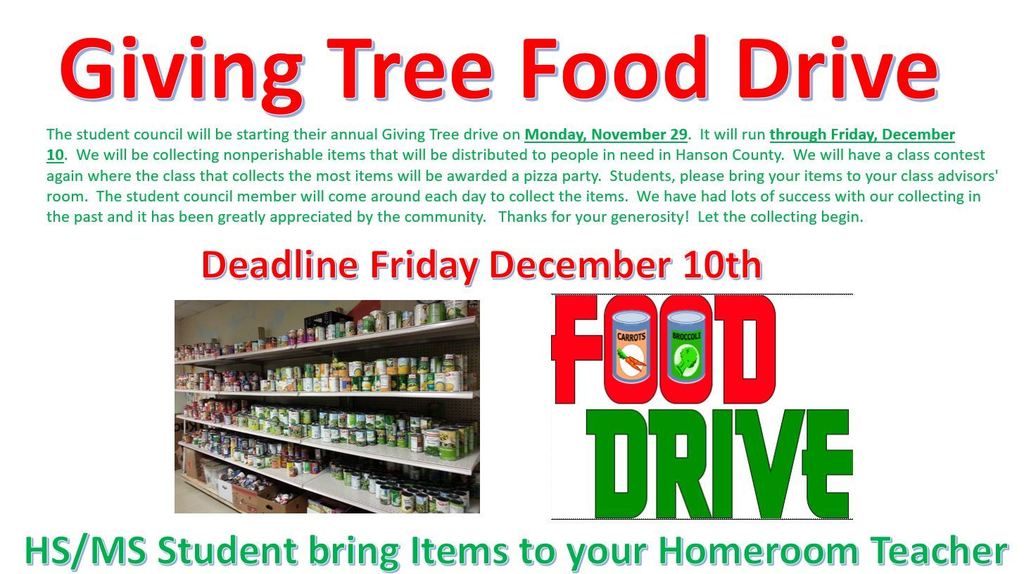 Great job by this crew that was selected to perform the national anthem on Thursday's sessions at the State A volleyball tournament. A job well done by Mrs. Wieseler and her crew!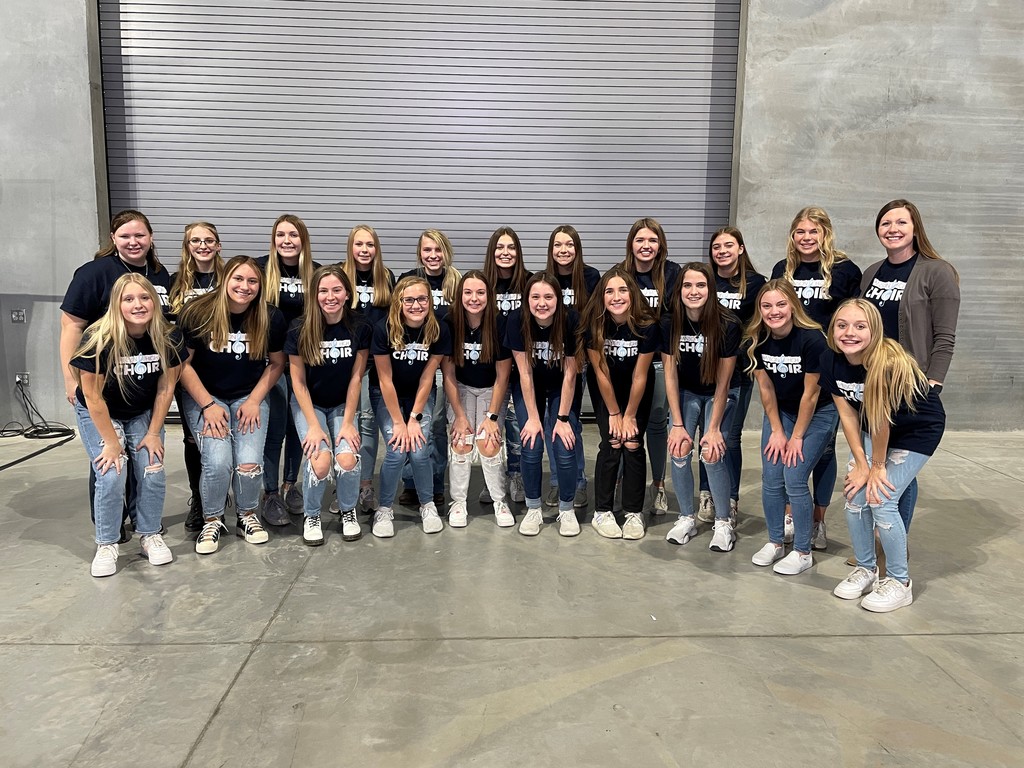 Congrats to the Hanson girls recognized for Cornbelt Conference Volleyball post season recognition: Second Team: Annalyse Weber & Jalyn Kampshoff Honorable Mention: Taylor Schroeder


Congrats to Jaycee Heezen for qualifying for the class A state Oral interp competition. Jaycee qualified in the category of poetry. Great job Jaycee!

Reminder: Hanson Football Field/Track Renovation Project Informational Meeting Hanson School Gym Tues., Nov. 16, 2021 7:00 pm. Click to read invitation/Agenda:
https://5il.co/11mif

Good luck to Jaycee Heezen, Erin Dewald, Kennedy Bender, Emalea Nelson, and Miranda Hanson as they compete in the region oral interp contest in Brookings on Monday.

All are welcome to today's Veterans Day program/Gregory Wagner Bridge Dedication ceremony at 10:00 a.m. at the gym. The program will also be streamed:
https://youtu.be/vDHg3Xj_hbw
and available on Triotel Channel 30.

Many guests from the public


Hanson Football Field/Track Renovation Project Informational Meeting Hanson School Gym Tues., Nov. 16, 2021 7:00 pm. Click to read invitation/Agenda:
https://5il.co/11mif

The 7th and 8th grade basketball games at Emery on Thursday, Nov. 11th have been postponed